5 OF THE BEST HOT SPRINGS IN CHILE
If you are looking for a place to vacation where tranquility and nature stand out, you will be interested to know that throughout the Chilean territory there are several destinations hidden among lush landscapes perfect for leaving aside the daily routine. In this way, bathing in hot springs is considered one of the best outdoor activities, not only for its pleasant sensation of wellbeing, but also for the multiple medicinal benefits it offers through its mineral components. Here are 5 of the best hot springs in Chile perfect for vacationing:
Geometric Hot Springs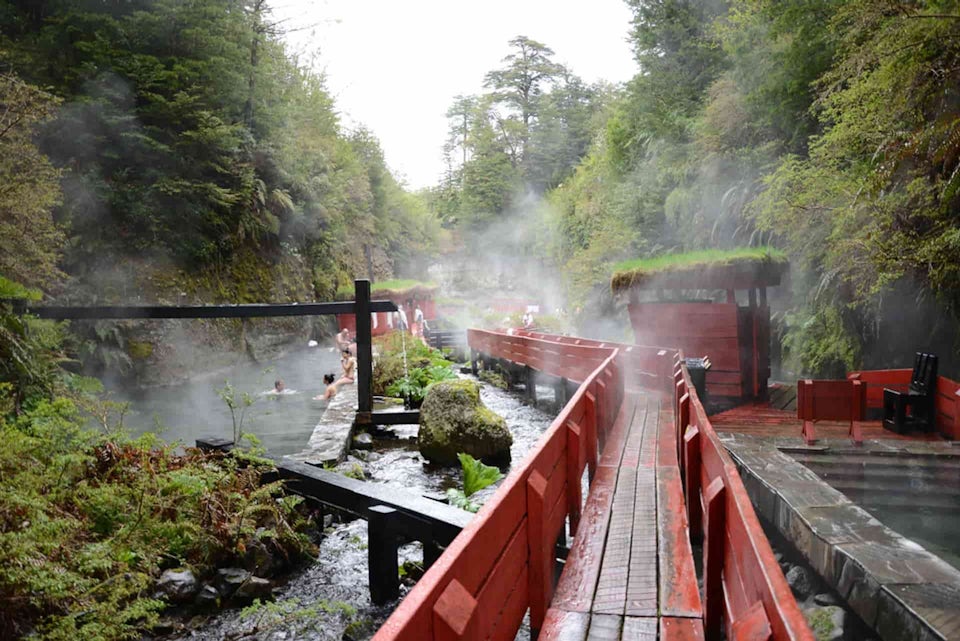 Inside the amazing Villarrica Sur National Park is an architectural marvel that makes it possible to get in touch with nature in an unparalleled way: the Termas Geométricas (Geometric Hot Springs). In fact, it is a thermal complex designed by the famous architect Germán del Sol, which has 20 wells free of electrical installations connected to natural hot springs of about 80º C.
It is worth mentioning that this geometric complex is one of the most distinguished in the area due to the wooden walkways dyed in intense red that harmoniously differentiate the natural from the architectural, making the landscape stand out. Undoubtedly, these hot springs are an ideal destination to visit any day of the year in search of an unrepeatable rest.
Polloquere Hot Springs
Another natural phenomenon that has become a tourist attraction due to its relaxing atmosphere is located inside the Lauca National Park, known as the Polloquere Hot Springs. In this sense, these are natural hot springs surrounded by the Suriré Salt Flat whose waters are characterized by exceeding 60ºC, and also have numerous mineral components that give the hot springs their distinctive turquoise color and healing properties.
At the same time, the surroundings of these hot springs are home to species such as flamingos, alpacas and rheas, making it an ideal area to get to know the typical fauna of the place. Thus, it is considered a destination of extraordinary landscapes and great warmth, perfect to take a break from the daily routine.
El Plomo Hot Springs
Termas del Plomo is one of the most amazing attractions in terms of thermal pools closest to Santiago de Chile, located in the interior of Cajón del Maipo. In fact, it is a natural area that although it receives its waters from the San José volcano, these do not have high temperatures, so they are perfect for bathing. In addition, its surroundings are ideal for hiking and let yourself be carried away by the incredible scenery offered by unspoiled nature.
Menetúe Thermal Park
30 km from Pucón is the Menetúe Thermal Park complex, which stands out mainly for offering a complete experience due to the numerous facilities specially designed to function as rest areas. Thus, this park not only offers lodging in pleasant cabins, but also has numerous outdoor and indoor heated pools, massage rooms, restaurants and modern facilities for thermal baths between 30º to 40ºC and mineral-rich sauna.
Undoubtedly, Menetúe turns out to be a tourist stop that makes possible a total renewal of energy, maintaining at all times the contact with nature and its paradisiacal landscapes.
Peumayen Hot Springs
The picturesque Termas Paumayén hot springs center located in Pucón has become an unmissable tourist destination due to its comfortable and innovative facilities capable of offering a rewarding experience. In this sense, this complex offers lodging in lodges and cabins, along with an excellent gastronomic service and numerous indoor and outdoor swimming pools that are easily accessible.
However, its main attraction is found in 2 hot springs surrounded by the exuberant nature of the Liucura River, which have temperatures ranging from 30°C to 37°C (86°F to 90°F). At the same time, the warm waters of the area are rich in salts and minerals, so they are favorable for skin care, thus being a dream place to connect with the natural environment taking advantage of the benefits of the thermal baths.
Why book with us?
Best price without complications
Best Quality Guaranteed
Passenger service available 24/7
Tours and Experiences selected by experts
Industry leader
18 years of experience